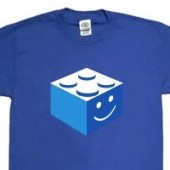 I swear that I'm not going to make a habit out of running shirts that haven't even been printed yet, but Sebastiaan de With's Bricky is just too damn rad to not mention now.
Think of this as the t-shirt blogger equivalent of yelling "first" — even if I did manage to stumble across it on Tumblr…
The Mac nerds in the crowd might remember Sebastiaan's fantastic Exploded Settings tee. If you don't tho, that's totally fine. This design is a celebration of the blue legos that show up in place of Flash content on the iPhone, iPod Touch and iPad. I, for one, hate Flash with a passion.  If you follow me on Twitter, that's really no secret. I earnestly want to see it stamped out by the likes of HTML5, CSS 3 and Apple's assorted mobile products. So you can bet your ass that I'll throw down $22.50 when this unassuming bad boy drops.