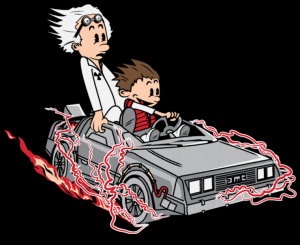 In a little over a month, people will be waiting anxiously for Marty McFly to appear in the Hill Valley Future. The only problem with this is that, if you were paying attention to the end of Back to the Future Part 3, you'd know that the future they created in Back to the Future Part 2 was irreparably changed when a train smashed into the Delorean. The text on Jennifer's fax paper disappeared, thus signifying that, as Doc so aptly put it, "the future is whatever you make it!"
That wasn't just some cliché platitude, he literally meant that what they saw was no longer there and they have to– we all have to rebuild the future! That's why there are no hover-cars, that's why there are no mind controlled video games yet, that's why there aren't street gangs using hoverboards over non-magnetic surfaces!
THE FUTURE IS WHAT MARTY MADE IT BY DESTROYING THE DELOREAN! WAKE UP, SHEEPLE! WE'RE ALL LIVING IN A DYSTOPIAN FUTURE CREATED BY ROBERT ZEMECKIS WHO IS CONNECTED WITH THE RUBBER INDUSTRY WHICH WOULD DIE IF WE COULD HOVER AND DIDN'T NEED VIDEO GAME BUTTONS!
Oh, and also there's this shirt. Isn't it cute?
$20 | URL | Paypal Credit | S – 3XL