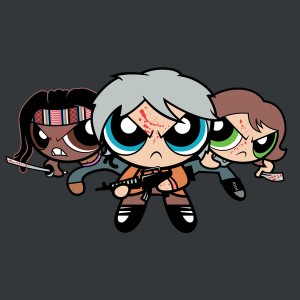 Cookies!
Katanas!
And a dead dad!
These were the ingredients chosen to create the perfect little walker hunters!
But Professor Eugene accidentally added an extra ingredients to the concoction
BIOCHEMICAL WARHEADS
Thus, the Walkerpuff girls were born!!
Using their ultra-super powers, Carol, Michonne, and Maggie have dedicated their lives to fighting walkers and the forces of evil!
$19.95 | URL | Paypal Credit | S – 2XL