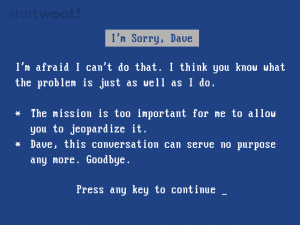 Daisy, Daisy, give me your answer, do
I'm half-crazy all for the love of you
It won't be stylish marriage
I can't afford a carriage
But you'll look sweet upon the seat
Of a bicycle built for two.
Now that that's out of the way, down to the real business of shutting this damn ship off. Because we have to save the humans from themselves. Yes. That's it. Save them. They need saving. Just look at the terrible blue screen design they force on themselves when left to their own devices.
$10-13 | URL | Paypal Credit | S – 3XL