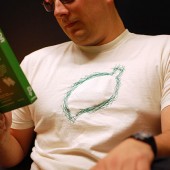 You know, for a software company, Panic has sure got some bad-ass swag. I wouldn't expect anything less from the folks who inhabit this office and write this blog tho.
I've always been about attention to detail in designs — and this one does not disappoint. An embroidered version of Panic's Coda logo looks as if it were sketched onto the shirt. It's a noisy, yet minimal masterpiece.
If they stopped there, that would have been fine by me. But they didn't! Using the same green thread, they took the American Apparel blank and gussied it up a bit by adding some accent stitching along the seams. It's a really nice touch that probably added a little bit more to the cost of the shirt during production. Even if it didn't tho, I'm glad that they decided to add that little extra flair.
$19.00 | PayPal | URL | M: S – 2XL