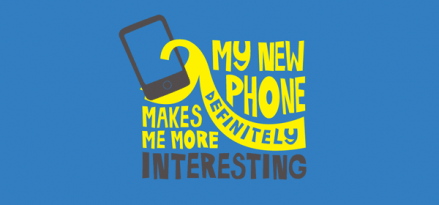 While I've always had a bit of a soft-spot for the pixelated work of my favorite internet cartoonist, I've gotta admit that I really enjoy when he strays from his wheelhouse.  This design has sort of a Saul Bass vibe.  Well, maybe a little less angular — but it's still really playful in all the right ways.
This tee has also managed to remind me that I could upgrade my iPhone to a 3GS.  Well, at least now that AT&T has deemed me eligible for one.  But the last thing I want to do is find out that the next upgrade (which will probably come out sometime this year) has something awesome built in.  Like a flux capacitor.  Or the Verizon network.  No way in hell am I going to miss something like that.
Looks like I'll have to keep sticking with last year's model for now.
Update: Apparently, I'm a dumbass.  R. Stevens is only selling and distributing this design. John Allison from Scary Go Round is the one responsible for the artwork. Thanks for setting me straight, Brendan.
$18.99 | PayPal | URL | M: S – 2XL F: S – XL