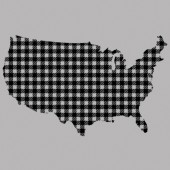 As winter has given way to springtime here in Los Angeles, I've found that my thoughts have been drifting off in all sorts of lovely directions. It's the return of some of my favorite things in the world…
Flip flop weather! Afternoons in the park! Late night beach bonfires! Trips to the Farmers Market! Barbecues! Picnics!
Then again, LA's one of those places where you can get away with doing most of that stuff year around. Still, there's something magical about this time of year. You can't really deny that.
One of the patterns that just sort of say springtime without screaming it out loud has always been gingham. Well, at least to me it has. And while the pattern may come off as a little "country" to some folks, I love the shit out of the simplicity of this design. If only they had it in a yellow on kelly green or red on heather grey colorway. *shrug* Oh well… Maybe someday.
$20.00 | PayPal | URL | M: S – XL, F: S – L