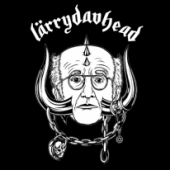 Holy shit! I know that this tee is super fucking punny — to the point of being completely absurd — but I love it anyway.
I'll be honest. Before I laid eyes on this design, I didn't think Motörhead could possibly get any more metal. Apparently, I couldn't have been more wrong tho. Once you add "Curb Your Enthusiasm" star Larry David to the mix — and that goes for almost any situation — shit gets cranked up to twelve.
That's right, Spinal Tap. Not eleven. Twelve.
So what are you waiting for? Snatch this one up already!
$15.00 | PayPal | URL | M: S – 2XL