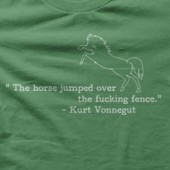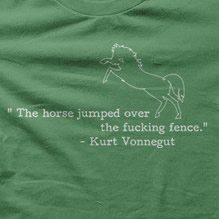 First, let me just say that I fell asleep during Breakfast of Champions and Slaughterhouse-Five. Which just proves you don't have to like Kurt Vonnegut to love this t-shirt.
However, if you like Vonnegut, you probably clicked the shirt a long time ago and are eagerly giving away your credit card information. You're probably also drooling all over your journal.
This is the kind of author back-story that you can't beat:
Kurt Vonnegut worked briefly at SI until being told to write a story about a race horse that had jumped the rail and terrorized the infield at a local track. Vonnegut stared at his desk for what seemed like hours before finally departing the building without a word. Inside his deserted typewriter was this: "The horse jumped over the fucking fence."
I wish Sports Illustrated had run the story.
$20-25 | URL | Paypal, Credit | M: S – 2XL, F: S – 2XL