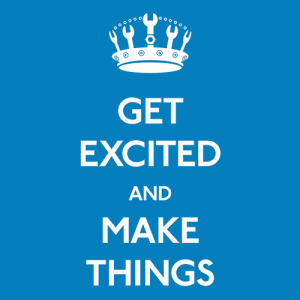 "Everything around you was created by people no smarter than you. You can change things, influence things and build your own things people can use. Once you learn that, you'll never be the same again." – Steve
This riff on the British WWII propaganda poster, Keep Calm and Carry On, slightly edges out Work Hard and Be Kind as my so-far, all-time favorite.
There's plenty of places online that you can get a shirt with this design on it, but I'm particularly fond of Diesel Sweeties. The fact that proceeds benefit a local charity is just frosting on the cake.
$19.50 | URL | Paypal/Credit | M: S – XL, F: S – L