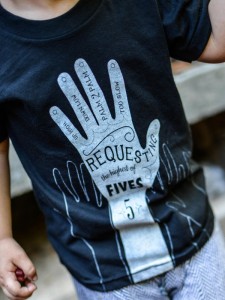 I'm sorry to disappoint, but today's epic shirt is not  available in adult sizes. The site isn't kidding on the homepage when they say that, "Here you will find American made children's clothes that will incite envy from grown-ups."
This is easily the coolest shirt for a kid to have, since they all seem to love high fives.
Please, please neve/hawk, make this in adult sizes. I'll even give you a high five!
$28 | URL  | Paypal/Credit | Youth: 2-12