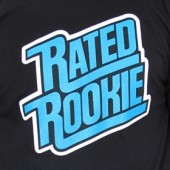 Hot damn! It's baseball season again!
To be honest, I didn't think that I'd ever be the sort of guy to express unbridled excitement at the start of a new season. But here we are in 2010 and I'm ready to spend my summer drinking beers and rooting for the Dodgers.
Like many kids in the 80's, I spent a considerable amount of my youth collecting and trading baseball cards. And while I tended to prefer Topps over all the other brands, I ended up amassing a decent stack of ones from Donruss too. In fact, despite having Topps rookie cards for the likes of Jose Canseco, Barry Bonds and Jim Abbott, the crown jewel of my collection was the Bo Jackson Donruss Rated Rookie card that I somehow managed to score.
So in celebration of all those old hunks of cardboard — and the start of a new season — I'm running this tee from No Mas. It's a design that gives me nostalgia pangs more than anything else, but I'm sure at least a few of y'all are feeling them too.
$32.00 | URL | Credit | M: S – 4XL