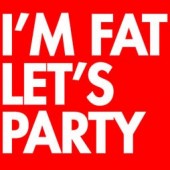 I really want to say that this tee is the one I've been waiting my whole t-shirt blogging career for. The one that encapsulates who I am and what I do and boils it down to its bare essence.  But it's probably better if I just be straight with you.
You see, while I am both fat and down to party, I'm normally the guy who makes his way to the couch for a brief nap. That's sort of what I do. Like all the time. I mean, if I manage to make it thru a gathering without dozing off, it's a notable event. And it's not like I get bored or anything — I just really like sleeping.
So I guess what I'm getting at is that this shirt speaks to me. Well, more like who I'd like to be. But it'd really be my jam if it said, "I'M FAT, YOU GUYS PARTY, I'LL BE OVER ON THE COUCH WITH MY EYES CLOSED".
That's probably a little too wordy tho, right?
$22.00 | URL | Credit | M: S – 3XL, F: S – XL