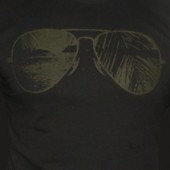 I have an unhealthy obsession with two things: t-shirts and mirrored aviator sunglasses. Since I pretty much always wear t-shirts that get a reaction out of people, the mirrored glasses help me to walk non-chalantly through crowds of people while scanning for people seeing my shirt, getting it, and smiling/laughing/giving me the finger.
So I was really stoked when Guerilla Skin Clothing sent me an email to check out their site and I saw this tee. Imagine wearing this tee AND wearing aviator sunglasses. All I'd need is pants with an aviator design on them and I'd be set.
Then I was sad that it a) only comes as large as well, large, and b) that it costs $31.5102. I love most things from Ireland, including Guiness, Colcannon & this shirt, but I don't have any farthings. :(
Conor at GSC passed along a special coupon just for Preshrunk readers. Use the code "PRESHRUNK" and get 10% off.
£19.99 | URL | Paypal | M: S – L