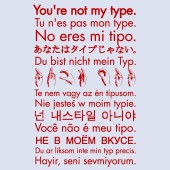 This shirt let's you skip ahead 4-6 months, so you don't have to convince someone, "It's not you, it's me." Avoid costly dates, having to learn yet another birthday, and food allergies you never knew existed.
You'll also get to save lots of money that you can use to pay for new toys for your cats.
The best part? The day you see someone who's exactly your type across the room smile at you, look at your shirt, then swear at you in sign language.
Priceless.
$19-21 | URL | Paypal, Google, Credit | M: S – 2XL, F: XS – XL