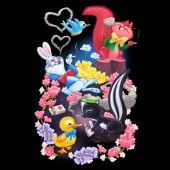 It's Threadless Thursday! On Thursdays when I remember, I either pick a shirt that made it through voting and stands out from the rest of the usual suspects at Threadless or I highlight a design in voting that could use some love.
It should be no surprise that this design made it through voting. This reminds me of SEIBEI's epic "I like to eat cake and smoke cigarettes" shirt from ahem, a few years back.
Now, I'm not a smoker myself, but I love Disney-esque characters doing things that Disney would never approve. Oh wait, nevermind.
$20 | This link gives me points, this link doesn't | Paypal, Credit | M: S – 2XL, F S-2XL