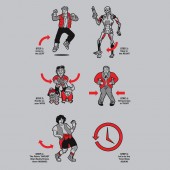 Ah, the Time Warp. The beloved little number immortalized by vampiric transsexuals since the hedonistic mid-70s. Who says the effeminate vampire thing is new? This twist on the beloved family classic isn't gyrated out by Rocky's pasty British hips, though – no sir. This bad boy is staffed with the time-traveling heavies of our modern age.
When Einstein's big Austrian noggin was wrapping itself around relativity (here's a handy reference for you non-physicists), was he dreaming of a world where Keanu and a Cyborg could live in peace? Yes. Yes he was.
Only pros like these can actually time warp without tearing a hole in the space-time continuum – but now you can rep the valiant efforts of time travelers every time you leave the house.
Oh and for a limited time, use the coupon code FluxCapacitor for 15% off your order.
$15 pre-order, $18 | URL | Paypal Credit | M: S – 2XL, F: S – 2XL