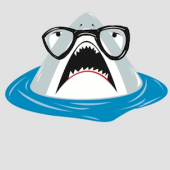 It's Threadless Thursday! On Thursdays when I remember, I highlight a design in voting that could use some love. Last week I skipped it, because I didn't like any of the designs.* This week, I like two!
Hipster Shark only has 18 votes. :( While I'm sure he doesn't need anyone to validate his coolness, let's see if we can make this particular hipster the popular kid! Go vote on Hipster Shark!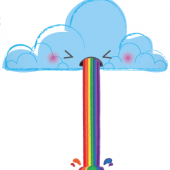 *If you've ever thought to yourself that it'd be a good idea to subscribe to Threadless' Design Submission RSS feed so you see all the cool new designs, THINK AGAIN.
Threadless gets about a gazillion submissions a day and they aren't all unicorns and rainbows.
Thankfully, Cloud Vomit rose to the top of the pile pretty quick. If you like it, too, then go vote! :)